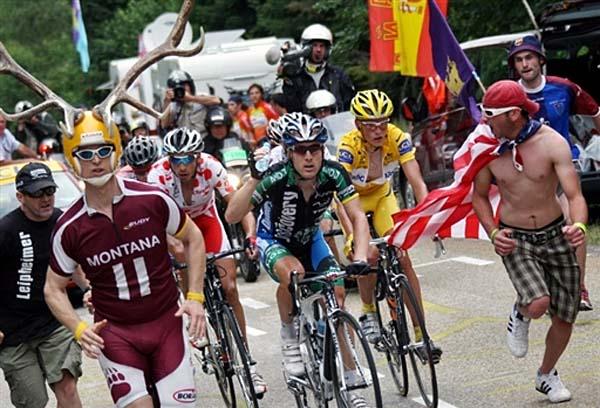 1. Bob Roll – last night he said "Soccer sucks. I hate that sport." He also made mention of the descent off of Madeleine and how Schleck and Contador were frappe-ing the corners. Best commentator ever? And rest assured, Bob, I'm wearing my Road ID.
2. Crashes – I'm sure the tour riders won't agree with me on this one, because it basically likens them to visual meat, but they're awesome. The first few stages of the Tour this year were incredible. I've never seen so many crashes. Unfortunate that the cobbles knocked Frank Schleck out, and a median (among other things) erased Lance from the list of contenders, but it's still fun to watch.
3. Fans – there is no greater fan interaction than on the Tour de France. Where else can you see guys in bibs sprinting alongside professional athletes, throwing water in their faces, while screaming at the top of their lungs, their nation's flag whipping behind them? I'll answer that  supposedly rhetorical question: no where.
4. Inspiration – I'm sure you've all seen the impact the Tour has on the local cycling scene while out on your rides (you are all riding, aren't you?). Cyclists start showing up everywhere. Saturday morning rides become a class reunion of sorts, spotting faces and riders you haven't seen since the end of last year's Tour. Anytime an event can get people outside and exercising, it's a good thing for this country.
5. Lance – He's why we started riding. He's why we are Wannabe Riders. He's why we travel from all over the country to ride together in the sweltering humidity, heat and hills of southeastern Pennsylvania. He's why we wear yellow plastic wristbands, and not because they've become a fashion statement. I'm bummed that he got dropped. I'm bummed this is his last Tour. But I can't wait to see the grit and guts he will show over the final two weeks of this Tour. I want him to be the ultimate teammate. I want him to show us he's still got it. I want him to sound the alarms for the fight against cancer. We love Lance because we know he will.